World Cup qualifying: Five takeaways from U.S. rout of Trinidad and Tobago
JACKSONVILLE, Fla. — Christian Pulisic made his first U.S. national team start one to remember, and he played well enough to leave us wondering if he will ever come out of the lineup.
The 17-year-old dazzled, danced and dribbled through and around Trinidad and Tobago, and though he didn't actually score a goal, he helped set up countless chances and saw his own golden opportunity miss by the slimmest of margins when it hit off the post and crossbar. Pulisic also had another of his shots saved before the rebound fell to Paul Arriola for the fourth U.S. goal.
MORE: Images of Team USA in the Copa
Pulisic wasn't the only U.S. player to make the most of a rare start for the U.S. Sacha Kljestan built on his impressive showing against St. Vincent and the Grenadines by delivering a goal and looking extremely comfortable running the attack for Jurgen Klinsmann's squad. He started slowly but eventually found his rhythm.
And then there was Jozy Altidore, who carried over his sharp form in MLS by scoring a pair of goals to become the U.S. national team's all-time leading scorer in World Cup qualifying. His touch, turn and finish on his first goal was sublime, as was his back-post run to finish the second. He looked energized and confident on the ball, and reminded us all why he remains a first-choice striker for the U.S.
The resounding victory not only boosted the stock of several players who needed good showings, it also sent a message to the rest of CONCACAF that the U.S. will be heading into the Hex with plenty of attacking options and building confidence.
Here is a closer look at five key takeaways from the Americans' 4-0 win Tuesday:
Pulisic is the 'real deal'
That's what Trinidad and Tobago coach Stephen Hart told Goal USA earlier in the week. The Borussia Dortmund winger showed off his full array of skills, tearing up the right side of the Trinidad defense. He took on defenders, made dangerous runs, delivered promising passes and did everything a coach could want a winger to do except score a goal, and that was kept out by the post and the crossbar on the same shot.
MORE: Pulisic gave us a preview vs. SV&G
"I wasn't surprised at all. He's dynamic at Borussia Dortmund," Hart said of Pulisic. "He can go inside, he can go outside. The goal he set up is a beautiful example: He feigned inside, then went outside and played a beautiful ball to Jozy Altidore at the back post. He has a lot of potential for a young player."
Pulsic rewarded Klinsmann's faith, and has served notice to the rest of the wide options in the U.S. player pool. He has a unique skill set that sets him apart from the current crop of American wingers. His combination of speed and skill is unmatched, and his fearlessness makes him capable of handing tough situations and matches. Though some other players have the experience edge, Pulisic is as dynamic a young attacker as the U.S. has had since Landon Donovan broke in 16 years ago, when Pulisic was an infant.
Christian Pulisic shows off his skill. (Getty Images)
"(Klinsmann) has been talking with me, and he thought that I was ready today and I stepped out there and I feel like I did a good job, so I was really excited to get the start," Pulisic said. "Starting the game is different. You have to come out with a certain intensity about you to set the tone, but I felt comfortable out there. It's not something that I'm not used to or haven't done before. I felt very good."
Klinsmann certainly came away impressed, and credited Pulisic's work ethic and maturity for expediting his move into a starting role.
"One step at a time, but the step was right today, " Klinsmann said. "We watch every training session, and obviously Copa America helped to bring him along in this group of older guys. He just was very mature the way he trained every session, very focused, aiming for goal, going not backing up at all in physical battles as well. So we thought this is a good time now, and obviously the performance was wonderful to watch.
"I don't want to give him too many compliments," Klinsmann said with a laugh. "We've got to keep him down on the ground."
The only sour note on the night for Pulisic came when he raced onto an Altidore pass and slammed his shot off both posts.
"I don't think I"ve ever seen anything like that," Pulisic said of his closest chance at a goal. "After that I didn't think I was going to score because there's no way after something like that. Disappointing."
That was one of the few disappointments on a night when Pulisic served notice that he is ready for a bigger role on the national team, even if he is just a few days away from his 18th birthday.
Kljestan makes strong case for starting role
It is easy to forget that Sacha Kljestan almost never joined the U.S. national team for the September World Cup qualifiers, but as fate would have it, a broken foot suffered by Gyasi Zardes a week ago opened the door for the New York Red Bulls midfielder to earn a call — and Kljestan took full advantage.
Kljestan followed up his impressive showing from Friday in St. Vincent and the Grenadines with an even better outing, scoring a goal and helping set up another.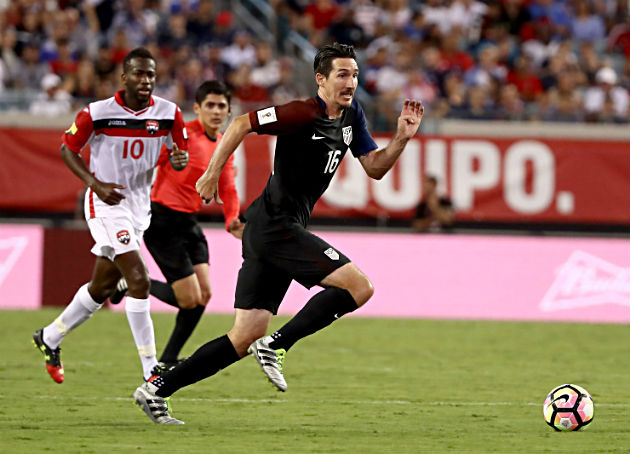 Sacha Kljestan is making a great second impression. (Getty Images)
"He helped his case big time," Klinsmann said of Kljestan "That's what happens in soccer all the time. Some players come in for whatever reason, if it's suspensions, if it's injuries. Other ones get their call and we always tell them, no matter if you were gone for two years, this is your chance now. Don't worry, the door is always open.
"(Kljestan) understood that from the first second on," Klinsmann added. "From the first training session on he was on fire in this camp.
"Sacha absolutely took advantage of his opportunity."
Kljestan's successful return was earned on the field in MLS, and even though the national team calls stopped coming, he continued honing his game and evolving into one of the best playmakers in MLS, if not the best.
"I had my head down for the past year and a half, working hard, wondering if (another national team call) would ever come," Kljestan said. "I was not sure if it would. Fortunately, the call came from Jurgen and he gave me a chance to prove himself with these last two games as well. Overall, I'm pretty happy with the way the last nine days have gone."
Two games played, two goals scored and three goals set up is not a bad return to the national team for a player who had been out of the picture for more than two years.
Altidore-Wood has makings of a long-term tandem
After the past two games together, it's safe to call Jozy Altidore and Bobby Wood a forward pairing with strong long-term potential.
Wood's tenacious effort and tireless runs keep defenses moving and adjusting, while Altidore's ability to find and slide into dangerous pockets can make the most of the space created by Wood. Altidore scored twice to break the U.S. record for World Cup qualifying goals, but it was Wood who drew praise from Trinidad and Tobago's coach.
"Wood today was dragging us all over the pitch, running deep, making us move away from the midfield and Altidore and Pulisic were finding space," Hart said. "That's a dangerous combination, especially when (Clint) Dempsey comes back."
"I thought Bobby did a good job," Altidore said. "I think Bobby should get a lot of credit. He causes a lot of problems for defenses and opens up a lot of things for others."
It shouldn't really come as a surprise that Altidore and Wood looked good in the September qualifiers. They both came in riding strong form, with Altidore finding his scoring rhythm with Toronto FC and Wood earning a starting job with Bundesliga side Hamburg and scoring in the season opener after showing well at the Copa America.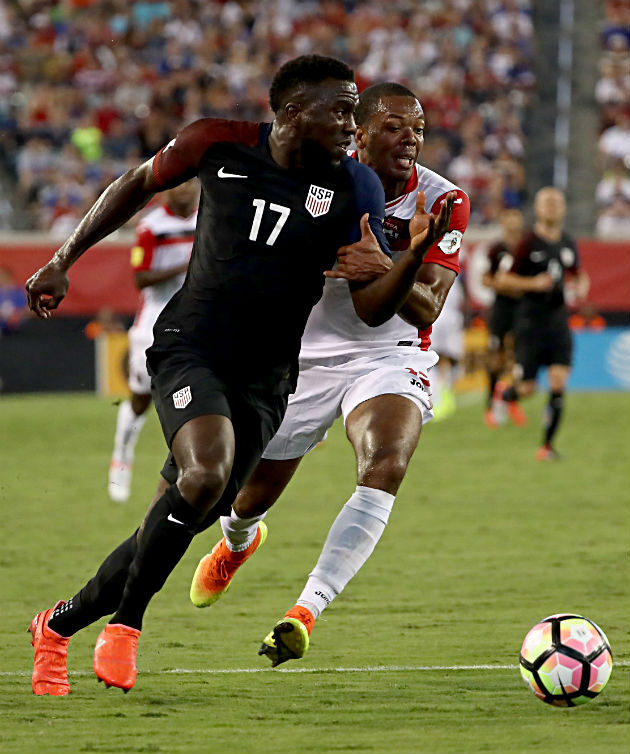 A new forward partner is making Jozy Altidore even more dangerous. (Getty Images)
"Those two are starting to get their connections together," Kljestan said of Altidore and Wood. "Bobby did a lot of work tonight, drew a lot of fouls. Jozy was able to put his goals away when he had his chances. They're forming a pretty dynamic duo up there that, hopefully, can last for a few years."
The key for the Altidore-Wood tandem will be Altidore being able to stay healthy, which has been an issue for him ever since he became a national team regular. If Altidore can stay on the field, and continue his strong run of form, the U.S. will have a good chance of starting the Hex off with some good results against the region's toughest competition, Mexico and Costa Rica.
Center back shuffling continues
Klinsmann is always good for a lineup curve ball and Tuesday's surprise was Geoff Cameron sliding to right back, with Omar Gonzalez joining Steve Birnbaum in central defense. The move seemed an odd one because Cameron had begun to look so settled in as a solidifying force in central defense, but concerns about Trinidad and Tobago's wingers coupled with a desire to give Gonzalez a chance led to starting Cameron at fullback instead of Michael Orozco.
Credit to Cameron — he didn't miss a beat, looking totally comfortable at right back as he helped shut down Trinidadian youngster Levi Garcia. Birnbaum and Gonzalez did well to contain Kenwyne Jones and avoided having Kevin Molino slip in underneath and punish them.
Gonzalez at the very least helped erase some of the bad memories of his disastrous showing down in Guatemala in March, though he is still trapped in a very deep center back competition, one in which Birnbaum is probably still ahead of him.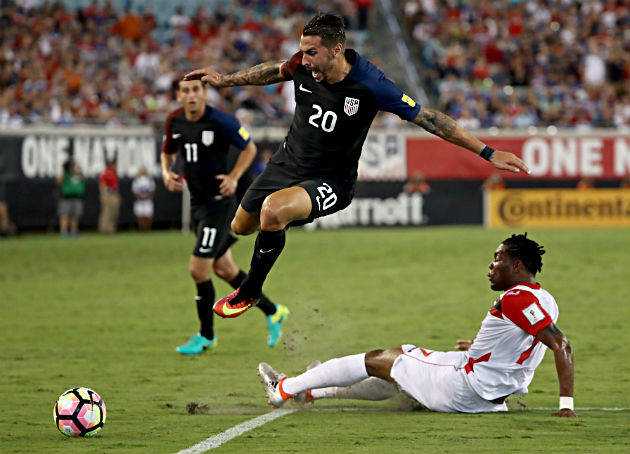 Geoff Cameron rose to the occasion. (Getty Images)
Could Cameron be heading for a longer look at right back, and potentially a spot there when the Hex begins? It's something to think about because DeAndre Yedlin was the team's shakiest defender at the Copa America and Cameron was a very good right back in limited time there during the 2013 Hex.
That being said, it could be a mistake given how well Cameron and John Brooks looked as a tandem at the Copa America, and given Yedlin's potential. But if Klinsmann has more faith in his center back options than his right back options, we could see Cameron back at right back come November.
Tough start to Hex awaits
Normally, the idea of having to face Mexico and Costa Rica in back-to-back qualifiers would be a bit nerve-wracking, but given how good the U.S. looked in September's qualifiers, and how the Copa America went, the Americans are probably heading for that tough stretch at the perfect time. Klinsmann certainly isn't worried.
"Sooner or later you got to play your big rival. Better do it right away," he said. "So, this is a huge opportunity to start that Hexagonal, to start these two matches and to send a signal out in this qualifying campaign. It's not easy. We know that. But we have the confidence especially after this Copa America to go in these games and say we want to have six points.
"If it's four points at the end of the day, will take that, too. But we have that confidence to try and beat Mexico on our home ground, and go into Costa Rica where we haven't been successful in World Cup qualifiers and win that game as well."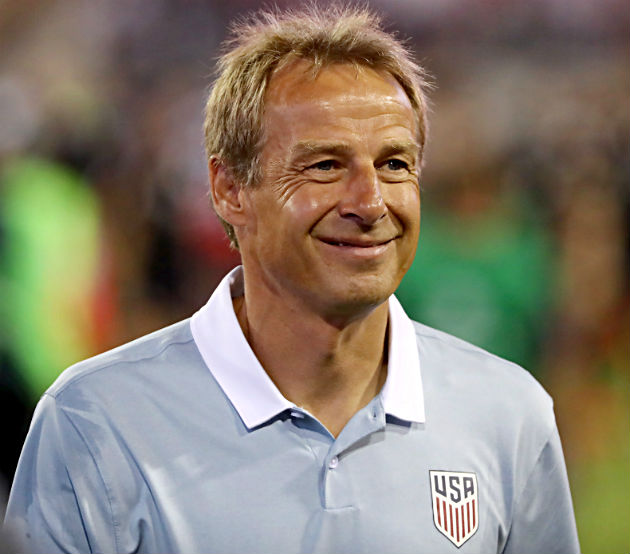 Jurgen Klinsmann's smile will disappear once qualifying resumes. (Getty Images)
A two-win start to the Hex would leave the U.S. in excellent shape heading into 2017, though Klinsmann is fully aware that you can't take anything for granted in CONCACAF. As tough as Mexico might be, Klinsmann believes his team can maintain the U.S. tradition of beating Mexico in Columbus, Ohio. (And Klinsmann and U.S. Soccer president Sunil Gulati essentially confirmed USA-Mexico will be hosted in Columbus, as it has been played in the previous four qualifying cycles.)
"It's exciting. I'm excited," Klinsmann said when asked about the Hex. "I can't wait for November, with all the respect we have obviously for Mexico. But this is what it's all about."